MakePython ESP8266 Starter Kit
Based on those MakePython solutions, Makerfabs can also help to customize those boards with customer's special requests. Contact sales@makerfabs.com for detailed info and further discussion. More detail you can read our PCB Design and
PCBA Turnkey Solution
.
Python is one of the most widely used, simple and easy-to-learn programming languages around. MicroPython is a lean implementation of the Python 3 programming language that has been pared down to run efficiently on microcontrollers. Python is a relatively simple (but powerful) language that is easy for beginners to pick up and has been gaining popularity in schools as an introductory language. MicroPython has nearly all of the features of Python, which means that interacting with hardware is now easily accessible to beginners and seasoned Python programmers alike.
The Makerfabs MakePython ESP8266 Kit intended to help learners get started with MicroPython on the ESP8266. This Kit includes the most common electronic components and modules, for the starter to learn the basic knowledge of MicroPython and usage with uPyCraft IDE. 12 basic lessons help starters to learn the usage and program skills about MicroPython.
MicroPython's goal is to make programming digital electronics as simple as possible, so it can be used by anyone. Currently, MicroPython is used by hobbyists, researchers, teachers, educators, and even commercial products.
Package List:
1 x MakePython ESP8266
1 x Ultrasonic ranging module
1 x Temperature and humidity sensor
1 x Buzzer module
1 x DS18B20 module
1 x Infrared module
1 x Potentiometer
1 x WS2812 module
1 x Sound sensor
1 x Vibration sensor
1 x Photosensitive resistance module
2 x Button
1 x Pulse sensor
45 x Jump wire
1 x USB cable
1 x Servo motor
2 x Breadboard
10 x Resistance 330R
10 x Red LED
10 x Green LED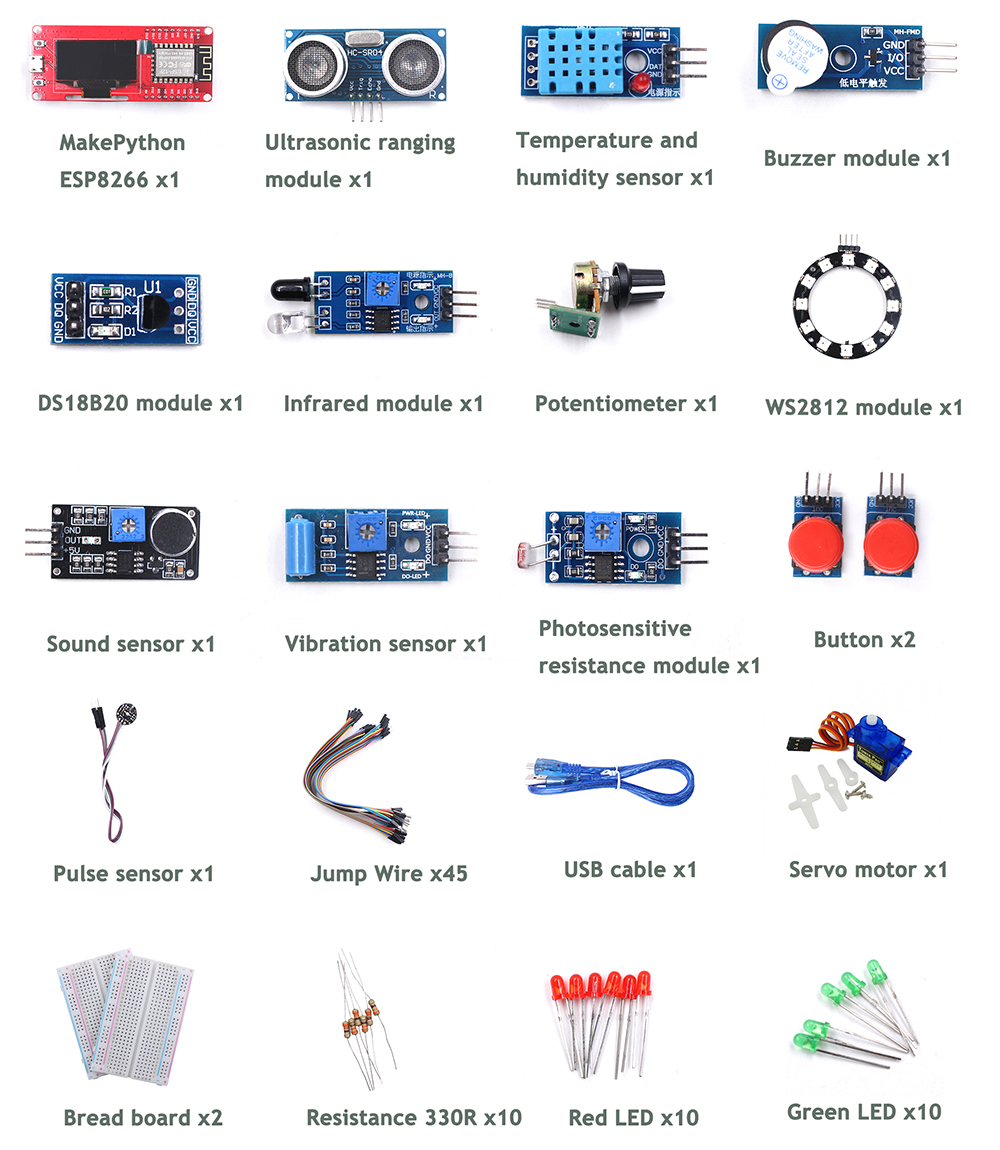 Download: