Handheld Retro Game Console with 400 Classical FC Games
1. Built-in 400 classic games: Arcade retro games, Logic & math, Sports, Puzzle, Arcade, Shooting, Action, Racing, Fighting games, Strategy, Adventure, Card games and more to meet your demand to play varieties of games what you like.

2. High-resolution screen:It features a colorful LCD screen and supports AV output, not only giving you a high-quality picture and gaming experience, but also making you more stress-free and make you feel better. Meanwhile, you could bring it everywhere with a slim design.

3. Great Gift: Elegant and stylish design, the GameBoy is a gift that can create happiness and memories for game lovers.
400 Super Classic games
Built-in 400 Retro FC games, the best choice for relaxed mood. Bring you and your children back to the fun of your childhood. A great gift for the whole family.
Play on TV
Easy to connect the game console with TV( AV connector cable is included), enjoy the larger screen gaming experience.
Portable and Elegant
Compact and lightweight handheld game console, mini case, take away. The best choice for a relaxed atmosphere in airplanes, camps, traveling or on the way to work.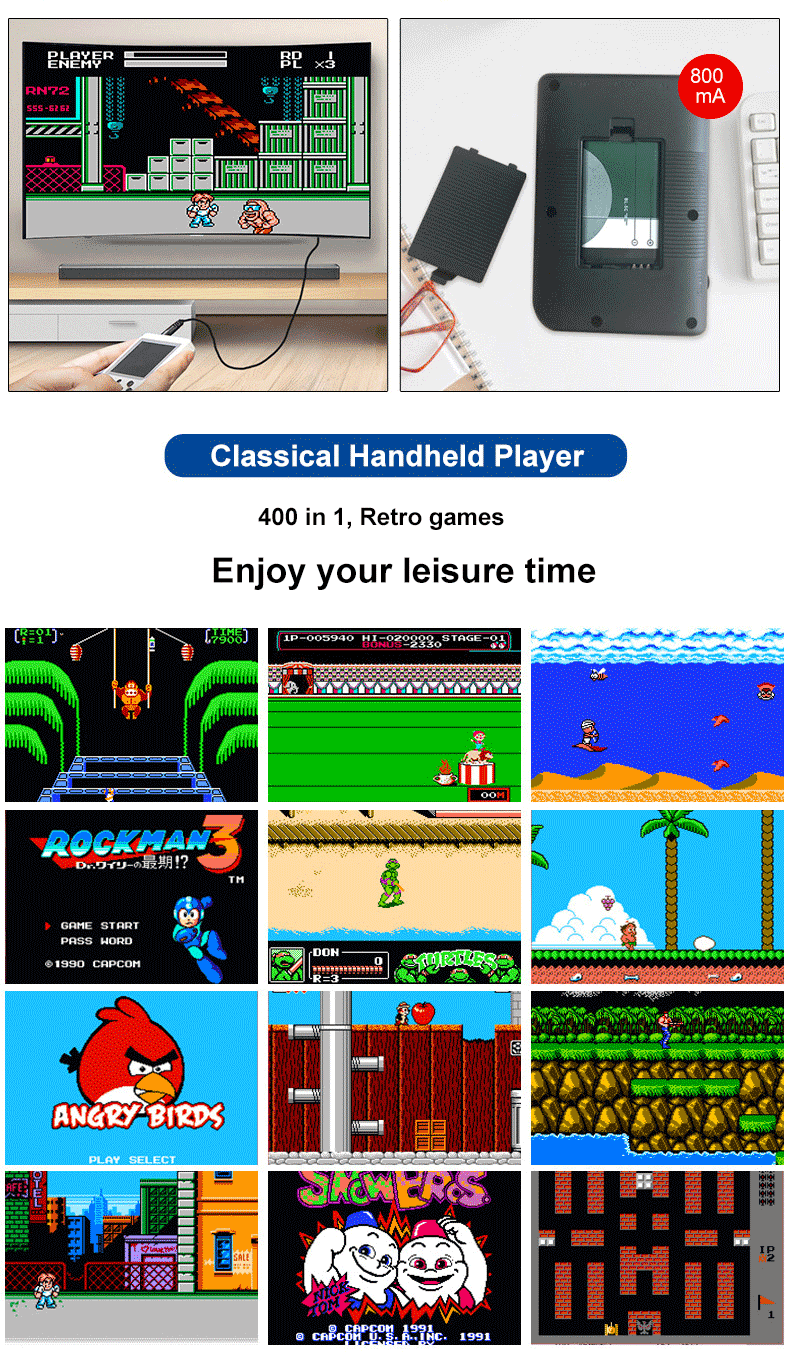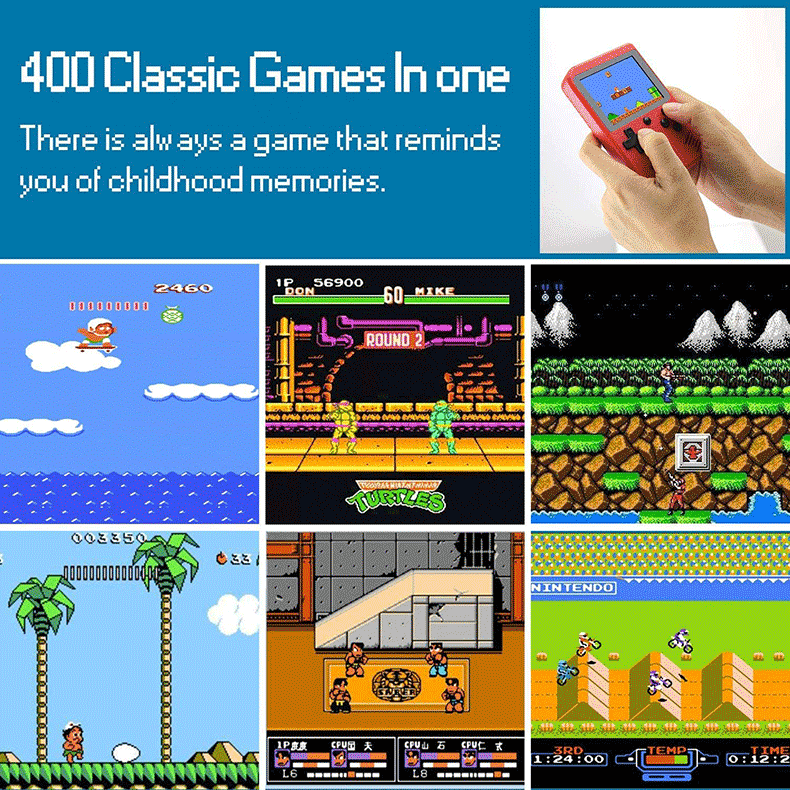 Play on TV
The red port of the AV cable is responsible for the sound output, and the yellow cable is responsible for the image output, corresponding to the color of the port of the TV.
It can only support NTSC TV, and it can display in color, others may be black and white.
The correct connection procedure is to connect the AV cable before turning on the power to prevent the IC of the game console from being damaged by static electricity.
If the AV interface is rusted, this can cause poor contact. The rust on the TV's AV connector must be removed before using it.
Tips:
The screen is covered with a protective film, you can peel off it.
Only works when in Two-player mode, you can play with another person. (1 use the console to control, another use the controller to control ).
The console does not have the function to save the progress of the game. When you leave the game, the progress is 0.
Product Specification:
Color: Red/Black/Blue/Yellow/White (Random colors when shipping)
Screen: 2.8-Inch
Built-in: 400 Games
Languages: English and Chinese
Working time: About 6 hours
Charging time: About 1 hour
Battery: 800MA lithium-ion rechargeable battery
Battery Notice:
Remove the battery from the unit if site is not used for a long time.
Do not short battery contacts.
Do not throw batteries into the fire.