PCBA/ Turnkey PCB Assembly Service
Makerfabs provides the turnkey PCB assembly service for makers& startups to create the first prototyping board to mass production, includes the PCB/ Components Sourcing/ Soldering/ Programming/ Testing and end shipping. Our responsive team will offer you PCB assembly services with a range of process control, refined and strict PCB assembly workflow, and quality commitment. With this service, you do not need to suffer from these very detailed work such as soldering the prototype board and thus can concentrate on creating and designing.
Download the Makerfabs EMS Introduction PPT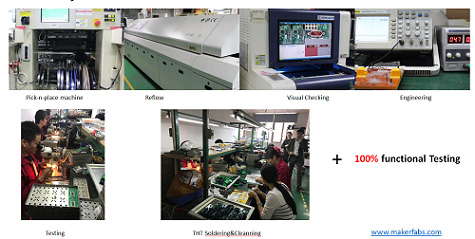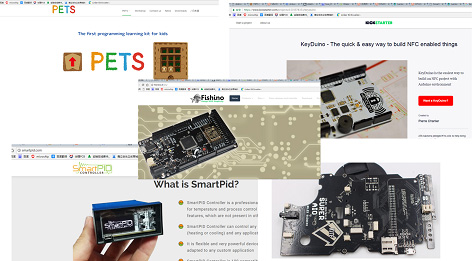 How to use Makerfabs PCBA service:
1. Send your request to sales@makerfabs.com for a quotation. For PCB Assembly work, please send us:

PCB Gerber Files, and the quantity you need and related spec such as color/ pads finish/ layers, etc.
BOM Files, some reference links, or Digikey/ Farnell parts number would be helpful for our quotation.
Files for the soldering such as parts mapping for the pick-n-place machine, or a simple mapping for hand soldering.
Programming/ Testing method, Makerfabs will help to test all the PCBA to ensure you 100% pass.
Other files that you want us to know to avoid mistakes in the production.
2. Makerfabs will make your quotation in 2 working days.
3. Custom's checking on the quotation and confirmation, and negotiation if needed.
4. Makerfabs works on the project.
5. Shipping, customer's checking, and projects closed if all OK.
Makerfabs PCBA Manufacturing Capabilities:
1. Lead Time:
12 working days normally for prototyping around and 15 working days for small batch production. The detailed lead time depends on many factors such as the components sourcing difficulty/ testing time, so the final lead time many altered for each project.
Makerfabs will keep the customer in touch in the whole process of production, or customers can check with the project manager anytime.
2. Parts Sourcing:
Makerfabs help sourcing/ purchasing components with your detailed part list. We will prepare the components from official Authorized distributors or international distributors such as Mouser/Digikey. You can also specify the vendors you like so we can help to purchase them directly.

Some Notes about the Parts:
(1) Makerfabs may use substitute brands for the resistors /capacitors/connectors and some other commonly used components. These components are tested and popularly used in the Shenzhen market, they may reduce your cost largely. We will remark this in the quotation parts sheet with Y or N, which means the original brand as your list, or not. If you have special requirements for this, please let us know.
(2) For the components, we can't source or if you can get them at a lower price, you can also send us the components. If you send them from other countries than China, please note the Shipping Tips.
3. PCB Assembly and Price:
Projects will be soldered manually or by pick-n-place machines, depends on the project's quantity and soldering difficulty. Basically, for prototyping board<10 pcs, it will be soldered by hand, while by machine with higher quantity. The price would be 0.03$ for each pad, both for SMD pads or THT pads. Note that a stencil would be needed for SMD soldering, even for hand soldering.

Makerfabs will quote the project as below:
(1) PCB Cost and Stencil: PCB cost depends on quantity/size/spec, same as PCB Prototyping; and Stencil for SMD pads soldering. Makerfabs will preserve the stencil for 3 months for customer re-production
(2) Assembly Cost: Based on soldering difficulty and quantity
(3) Engineer Starting Fee: If some testing needed, the testing fee will be list here, based on the testing time, 0.1$/minute
(4) Components: Customer can check the detailed quotation for each component in the quotation parts sheet
(5) Shipping Fee: Makerfabs provide direct Shenzhen DHL, with 2~3 days to North America and 3~4 days to other places all over the world

All the detailed quotation will be prepared for the customer before your final decision. As the components, we can solder the most commonly used package such as 0201/0402/0603/QFP/QFN/BGA/THT.
4. Quality Control:
With more than 5 Years' experience in PCBA Production, Makerfabs treat quality as the most important factor in our business, the testing includes:
(1) Industry-level PCB, All E-tested
(2) Official components from distributors or Mouser/Digikey/Farnell, etc
(3) Prototyping sample before the mass Production for customer confirmation
(4) 100% visual inspection: For quantity >100 pcs, AOI inspection, according to IPC-A-610E and GB2828 sampling standard
(5) Functional testing include programming(customer provide testing method)
5. Quality Assurance:
Makerfabs cherish every relationship with customers and serve every customer by heart. But the PCB assembly is a work that always comes up with errors, especially for prototyping and small batch production, we admit that there some mistakes that may happen in the production. Makerfabs 100% responsible for the mistakes/ faults in the production. If there are indeed some problems in our production that lead to your loss, you can directly contact your project manager or sales@makerfabs.com to request re-production or even a refund.
Makerfabs would be glad to hear your suggestions/complaints if not satisfied, and your recommendations to your friends with your satisfaction.
6. Security:
Makerfabs promises not to disclose any of your design files, your related designs are safe in Makerfabs. NDA files can be assigned to ensure the safety of your design.